services offered




At SRIRAM STUDIOS an entire range of services are provided, which include, editing suites for film and TV serials, dubbing facilities, effects generation, mixing of different media, mastering of content on DVD, transfers to different media as per requirement and rental of broadcast equipment.
editing suites - the latest and the best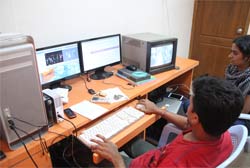 SRIRAM STUDIOS provides 16 editing suites to suit all your editing requirements. These suites comprise of edit suites, voice studios and exclusive Ad-posting and AB Roll studio. The hardware has been sourced from reputed international vendorslike Sony, JVC, Steinburg and Nuendo.
With state-of-the-art non-linear editing suites from Matrix, Avid and Discreet Logic running on powerful SGI and IBM workstations, SRIRAM STUDIOS is the ultimate provider in such facilities throughout Chennai.
Broadcast equipment rental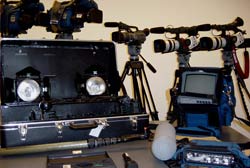 SRIRAM STUDIOS is the one of South India's leading broadcast equipment rental company providing the widest range of cameras, VTRs, lenses, tripods, monitors, filters and other accessories.
VTRs of all fomrats, PAL and NTSC, Mini DV, BEtacam SP, Digital Betacam, HIgh Definition HDCAM, Flash Drive Cameras are available for every conceivable environment.
multi camera setup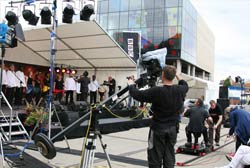 At SRIRAM STUDIOS also hires multiple cameras for training days, corporate away-days, or just require multiple camera hire, then we have a number of models that we stock in high volumes. They are simple and easy to use cameras. SD memory cards - easy to use and easy to share. All cables and SD cards are available in every kit. Ready to shoot direct from the bag. Perfect for corporate and company training days. Batteries charged and ready to shoot. Small & easy to use tripod with every camera. Option to hire more SD memory cards. We can supply technical help for the day as well. Our experience spans over 500 hours of shooting using this format.
retail media sales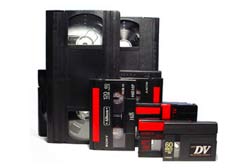 SRIRAM STUDIOS is the place for excellent tapestocks. Available are mulitbrand, multiformat tapes from all leading brands like Sony, JVC, Maxell and LG. Shipping of tapes to any place in India in the shortest amount of time is our speciality.
Some of the formats available in tapes are Digibeta, mini DV, JVC Digital, Sony Umatic, DVcam tape.
green matte studio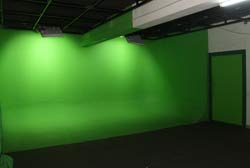 SRIRAM STUDIOS offers a state-of-the-art chromakey green matte studio facility, complete with the latest studio lighting, sound, teleprompters and video cameras. A 15′ x 25′ pre-lit infinity cove cyclorama along with all standard studio amenities await your next video project.

With this facility SRIRAM STUDIOS claims to be one of the best full fledged post production facilities provider in Chennai.
transfer to different media across all formats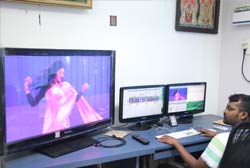 At SRIRAM STUDIOS has the unique offering of  inter-format conversion of all types of media - right from the outdated to the modern - in the formats of VHS, Lowband, HI-BAND, BETACAM, DVCAM, DVC PRO,JVC DS, DIGIBETA, HDV, HDV CAM, HDVCAM SR, D5 and TELECINE. Name a format and we can convert it for you.
photography for ads, TV serials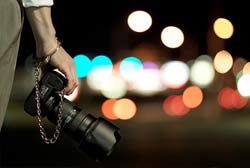 film production - our passion